Leeds trip
December 1995
I took the train up to Leeds for the uk.gay-lesbian-bi

party, on 15th December 1995, hosted by John *G* and Hussy. There wasn't a huge amount of people there, but there were one or two cuties. Let's see if I can get permission from some of them to put their piccies up here. Otherwise they look a bit silly with white circles over their faces!
| | |
| --- | --- |
| | In the mean time, here is a censored piccie of Hussy at the laptop while the party rages... You can still clearly see Philip's Russian hat :-) |
| | Here's a piccie of Grant and Adrian. |
| | And some guy who's not even on the net. :-( |
The afternoon before the party I went to the old town hall to join in the carol singing with the Mayor.
The morning after, I visited Leeds museum, which held a great variety of different exhibits, and the Tetley Brewery experience, which was great fun - a guided tour of brewing through the ages.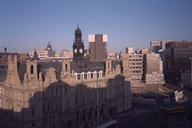 View of central Leeds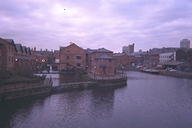 Leeds canal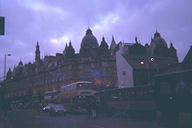 Leeds shops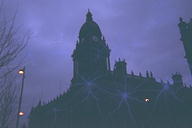 Leeds town hall
---

Go Home
Copyright © 1996, 1999 Carl Muller (
carlmuller@hotmail.com
). All Rights Reserved.